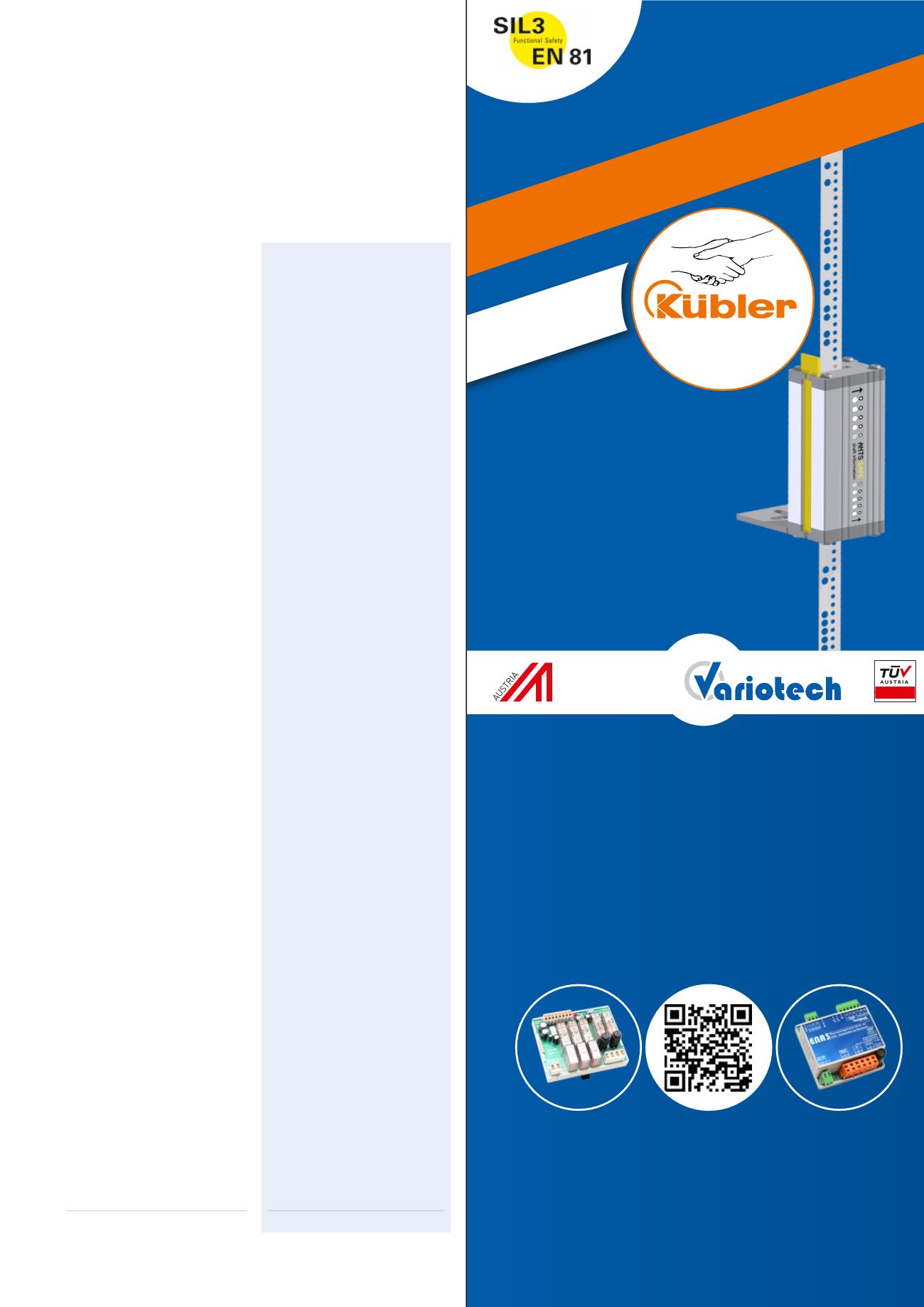 vibrations. The degree of precision
in stopping is +/- 1 mm, guaran-
teeing convenient and safe entry.
While the evolution 200 manages
up to 2.50 m/s and loads of up to
2500 kg, the 300 model is suit-
able for loads of up to 4000 kg at
the same speed. "This makes it a
specialist for especially hard work
inmedium-height buildings – and
for customers with particular high
expectations in terms of power
and individual design," explained
thyssenkrupp Elevator.
For residential and business
premises
The synergy product family also
has the typical performance fea-
tures. The company emphasised
that the new synergy 100 provided
an "especially attractive option" in
the area of functional residential
building. This was tremendously
important in buildings with nar-
row lift shafts and little room at
the upper and lower shaft end, es-
pecially in countries like Germany.
The synergy 200 model could be
installed without any problems,
both in new buildings as well as
in themodernisation of residential
buildings. The car size could be
varied and as a result permitted
maximum exploitation of the
room available in the shaft.
Finally, synergy 300 was also a
good fit for medium-intensity
commercial assignments and
therefore provided "a real cost
advantage" for institutions like
hospitals, schools or hotels.
All of the models could transport
up to 1000 kg; synergy 200 and 300
managed a top speed of 1.75 m/s,
the model 100 1 m/s.
Just like the evolution models,
synergy 100 and 200 were ideal
for residential areas, while the 300
model could also be installed for
commercial purposes.
According to thyssenkrupp Eleva-
tor, both product families would
benefit from the predictive main-
tenance solution Max, which re-
corded relevant data, "This means
greatly reduced downtimes."
www.thyssenkrupp-elevator.com
funktionale Wohngebäude
biete der neue synergy 100
eine "besonders attraktive
Option", betont das Unter-
nehmen. Das sei bei Häusern
mit engen Aufzugschächten
und wenig Platz am unteren
und oberen Schachtende –
gerade bei Neubauten in
Ländern wie Deutschland –
von herausragender Bedeu-
tung.
Das Modell synergy 200 kön-
ne problemlos sowohl bei
Neubauten als auch bei Mo-
dernisierungen von Wohn-
gebäuden eingesetzt werden.
Die Kabinengröße lasse sich
variieren und erlaube da-
mit eine maximale Nutzung
des vorhandenen Platzes im
Schacht.
synergy 300 schließlich soll
sich auch für mittelintensive
kommerzielle Aufgaben eig-
nen und damit Einrichtungen
wie Krankenhäusern, Schulen
oder Hotels "einen echten
Kostenvorteil" bringen.
Sämtliche Modelle können
bis zu 1.000 kg befördern,
synergy 200 und 300 bringen
es dabei auf eine Höchst-
geschwindigkeit von 1,75
m/s, das Modell 100 ist 1m/s
schnell.
Genau wie die evolution
sollen synergy 100 und 200
optimal für Wohnbereiche
geeignet sein, während das
300er-Modell auch für kom-
merzielle Zwecke verbaut
werden könne.
Beide Produktfamilien sollen
nach Angaben von thysse-
nkrupp Elevator dabei von
der vorausschauenden War-
tungslösung Max profitieren,
die relevante Daten erfasst:
"Das Ergebnis sind deutlich
minimierte Ausfallzeiten."
www.thyssenkrupp-elevator.com
REA3
ENA3
Wir haben
mit
Sicherheit
die passende Lösung
für Ihr
UCM SYSTEM
für jeden Aufzug mit beliebigem
zertifizierten Bremsaktor
for every control with every UCM-certified brake
tel
+43 2282 60310
info@variotech.com
•
https://variotech.com
powered by
… keep it simple
Optional mit Auswerteeinheit
• Endschalterfunktion
• Inspektionsendschalterfunktion
• Verzögerungsendschalterfunktion
• UCM Sicherheitsfunktion
• Emulation der Türzonen
Optional with evaluation unit
• Limit switch function
• Inspection end limit switch function
• Deceleration limit switch
• UCM safety function
• Emulation of door zones
EN81-20 / 50
ZERTIFIZIERT
TÜV AUSTRIA SERVICES GMBH
NOW
Ants Encoder - Absolute Shaft Information
Ants Base +
Safe
www.kuebler.com
Produktion und Verkauf durch die Fritz Kübler GmbH
Production and Sales by Fritz Kübler GmbH