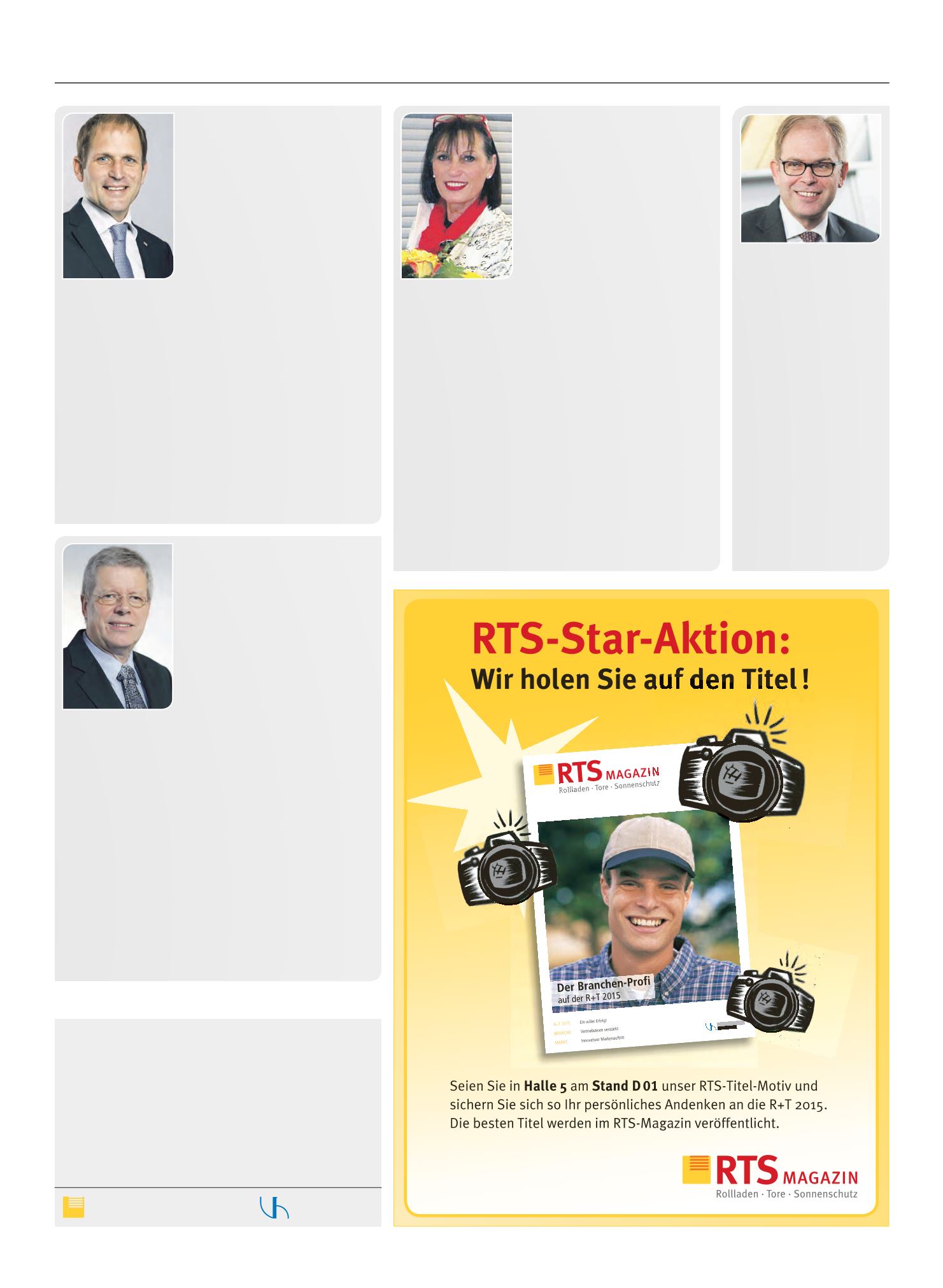 Konrad Kaiser, GF Heroal
Konrad Kaiser, GF Heroal
"Die R+T als internationaler Impulsge-
ber bietet uns die optimale Plattform,
um Systeminnovationen und techni-
sche Neuheiten aus den Bereichen Roll-
laden-, Rolltor- und Sonnenschutzsys-
temen zu präsentieren. Für uns stehen
die Kommunikation mit den Konfekti-
onären und die Präsentation unserer
Qualitätsführerschaft auf der R+T 2015
im Vordergrund.Wir werden auf der
R+T 2015 die Geschäftsfelderweiterung im Bereich Sonnenschutz
vorstellen: das Tageslichtsystem heroal LC und den heroal VS Z –
einen Zip Screen. Durch diese innovativen Beschattungsmöglich-
keiten bieten wir unseren Partnern die Chance, einen ganz neuen
Markt mit heroal zu erschließen."
"As an international source of inspiration the R+T provides us with
the ideal platform to present system innovations and new techni-
cal features from the fields of roller shutters, roll-up doors and sun
protection systems. For us what counts most is communicating
with producers and presenting our quality leadership at the R+T
2015. At the R+T 2015 we will present our business area expansion
in the field of sun protection: the daylight system heroal LC and
the heroal VS Z – a zip screen. Thanks to these innovative shading
options, we are offering our partners the opportunity to gain ac-
cess to a completely new market with heroal."
Heroal
Klaus Braun, GF Alukon
Klaus Braun, Managing
Director Alukon
"Als weltweit tätiger Sys-
temanbieter präsentieren
wir auf der R+T, im passen-
den Umfeld, unsere innovati-
ven Produktneuheiten 2015.
Wir freuen uns, dass sich das
Erfolgsmodell R+T auch nach
50 Jahren so jung, frisch und
attraktiv präsentiert."
"As a system provider operat-
ing worldwide we will be pre-
senting you our 2015 innova-
tive product innovations in the
appropriate environment at
the R
+T.We
are pleased that
the R+T success model is so
young, fresh and attractive
even after 50 years."
Alukon
Helga Hellwig, GF MarkiRoll
Helga Hellwig, MD MarkiRoll
"MarkiRoll ist eine neue Marke und
steht für die soeben zum Patent ange-
meldete Kombination aus Markise und
Rollladen mit erweitertem Funktions-
umfang und Nutzenvorteilen zum ak-
tuellen Stand der Technik. Zu sehen in
Halle 4, Stand B615, auf dem Gemein-
schaftsstand des Bundesministeriums
für Wirtschaft und Energie. Die R+T
erwarte ich mit großer Spannung. Die
Weltmesse wird der Ausgangspunkt, Richtungsanzeiger und
Wegbereiter für die Zukunft von MarkiRoll.
Die Akzeptanz und Meinung der Fachwelt ist mir vor der Markt-
einbringung sehr wichtig. Ob die Herstellung und Produktion in
Eigenregie oder eine Lizenzvergabe erfolgt, wird nach der Mes-
se entschieden."
"MarkiRoll is a new brand and stands for the combination of
awning and roller shutter with expanded functions and usage
advantages compared to the current state of the art, for which
a patent application has just been filed. It can be seen in Hall
4, Stand B615, at the joint stand of the Federal Ministry for Eco-
nomic Affairs and Energy. I'm very much looking forward to the
R+T. The leading world trade fair will be our point of departure,
showing the direction and preparing the way for the future of
MarkiRoll.
The acceptance and opinion of the trade world is very important
to me before the market launch. Whether we carry out the ma-
nufacture and production on our own or award licences will be
decided after the trade fair."
MarkiRoll
6 Stimmen zur Messe /
Voices of the fair
FriedrichW. Petrat, GF Hunter Douglas
Components
FriedrichW. Petrat, GF Hunter Douglas
Components
"Für Hunter Douglas ist die R+T die
weltweit wichtigste Plattform für Son-
nenschutz. Als Weltmesse für Rollladen,
Tore und Sonnenschutz gibt sie einen
umfassenden Branchenüberblick, prä-
sentiert die aktuellsten Trends sowie
Innovationen und gibt damit wichtige
Impulse. Das interessante und ziel-
gruppenorientierte Rahmenprogramm ergänzt das Aussteller-
portfolio. Für die Messebesucher ist dies ein echter Mehrwert.
Wir als weltweit tätiges Unternehmen nutzen diese Plattform,
um unsere Kunden aus der ganzen Welt zu empfangen, um Pro-
duktinnovationen sowie neue Konzepte zu präsentieren und um
Kundenbindungen zu festigen."
"For Hunter Douglas the R+T is the worldwide most important
platform for sun protection. As the leading world trade fair for
roller shutters, gates/doors and sun protection, it provides a com-
prehensive industry overview, presents the latest trends and inno-
vations and in this way provides vital inspiration. The fascinating
and target group oriented supporting programme supplements
the exhibitor portfolio. For trade fair visitors this is genuine ad-
ded value. As a company with worldwide operations we use this
platform to receive our customers from the whole world, present
product innovations and new concepts and reinforce customer
relations."
HunterDouglas
IMPRESSUM
R+T Messezeitung
Tageszeitung zur R+T 2015
Herausgeber
Verlagsanstalt Handwerk GmbH (VH)
Auf'm Tetelberg 7, 40221 Düsseldorf
Postfach 10 51 62, 40042 Düsseldorf
Tel.: 0211/390 98-0
Fax: 0211/390 98-39
=LYSHNZHUZ[HS[
/HUK^LYR
RTS Magazin
Rollladen·Tore·Sonnenschutz
Redaktion
Maren Meyerling (V.i.S.d.P., VH),
Jochen Smets (VH)
Anzeigen
Elke Schmidt (VH)
Produktion
herzog printmedia, Wuppertal
Druck
Pressehaus Stuttgart Druck GmbH
=LYSHNZHUZ[HS[
/HUK^LYR