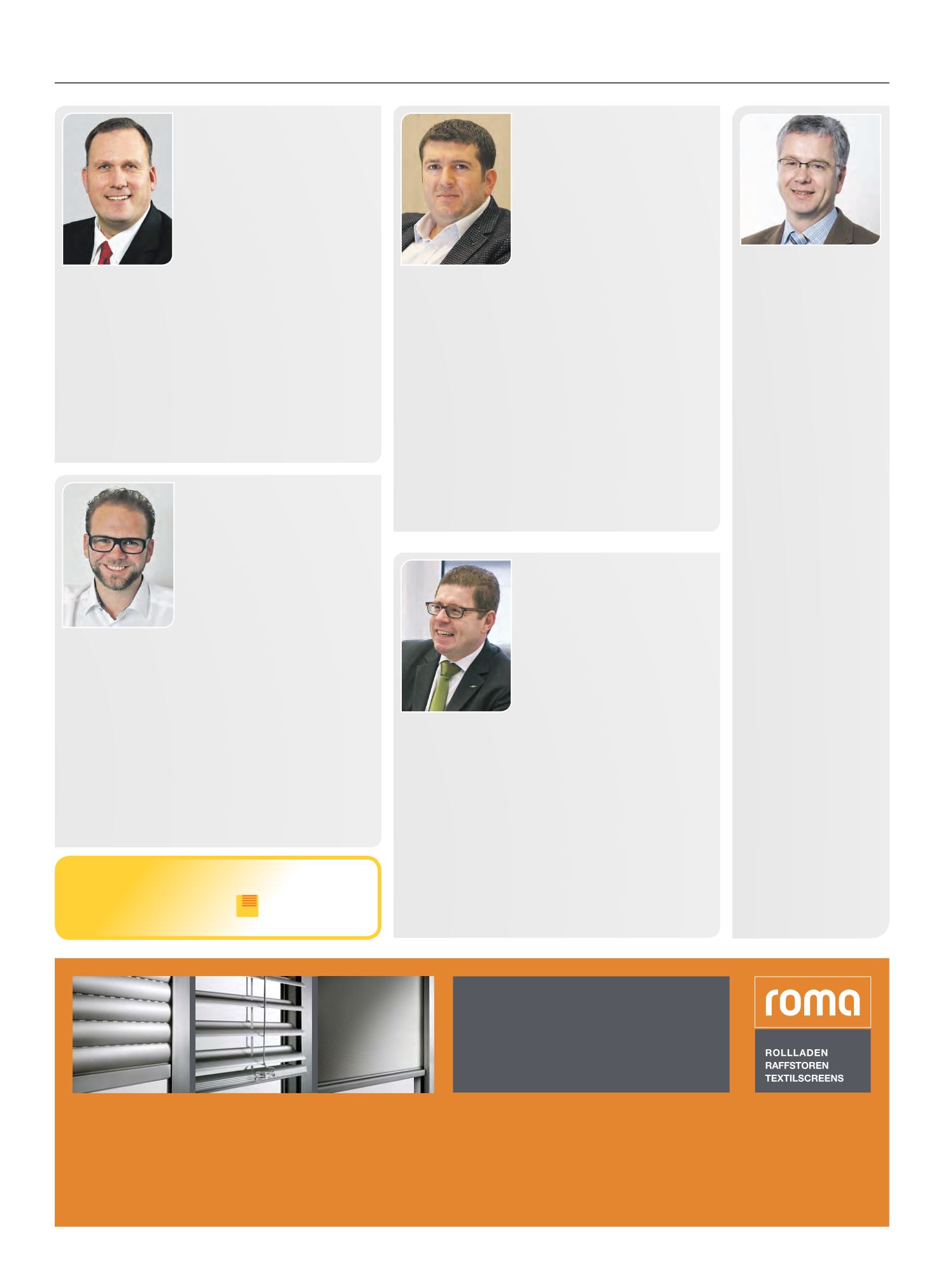 Bernd Riedmann, GFWarema Vertrieb
Stammhaus
Bernd Riedmann, Managing Director
Sales
"Wer aufhört besser zu werden, hört
auf gut zu sein. Nach diesem Grundsatz
entwickeln wir unsere Produkte. Und
danach optimieren wir auch perma-
nent die Serviceleistungen für unsere
Kunden. Unser hoher Innovationsgrad,
verbunden mit ebenso hohen gestalteri-
schen Ansprüchen, wird uns regelmäßig von renommierten Fach-
jurys bestätigt. Dies gilt auch für die Neuheiten, die wir 2015 auf
der R+T präsentieren. Hierzu gehört beispielsweise der Raffstore
E80 A6 S mit der kleinsten, amMarkt erhältlichen, Pakethöhe."
"Whoever stops getting better, stops being
good.We
develop our
products according to this principle. And we also permanently opti-
mise the services for our customers according to this. Our high de-
gree of innovation, combined with equally high design standards,
is regularly confirmed for us by renowned trade juries. This will also
apply to the innovations that we will present at the R+T in 2015.
For example, this will also include the exterior venetian blind E80
A6 S with the smallest package height available on the market."
Warema
Andreas Böck, GF Selve (Fertigung, Ent-
wicklung, Vertrieb, Marketing, Produkt-
management und Service)
Andreas Böck, Managing Director Selve
(manufacturing, development, distribu-
tion, marketing, product management
and service)
"Alle drei Jahre R+T: Das ist ein toller
Innovationsrhythmus und ein großer
Ansporn, unseren Fachbesuchern wirk-
liche Neuheiten mit Mehrwerten zu
präsentieren. Dies ist uns in den bekannten Selve-Bereichen – der
Antriebs-, Steuerungs- und Rollladentechnik – eindrucksvoll ge-
lungen. So haben wir innovative Antriebe für Rollläden und auch
den Sonnenschutz entwickelt. Ganz besonders freuen wir uns,
unsere neue Hausautomationslösung, den bidirektionalen com-
meo Home Server, zeigen zu können."
"Every three years R+T: this is a great innovation rhythm and a
great incentive to present real innovations with added value to
our trade
visitors.We
made a great success of this in the familiar
Selve areas – the drive, control and roller shutter technology. For
example, we also developed innovative drives for roller shutters
and sun
protection.We
are especially pleased to be able to show
our new building automation solution, the bidirectional commeo
home server."
Selve
Ludger Stracke, GF Selve
(Finanzen/Controlling, Perso-
nal, IT, Materialwirtschaft und
Logistik)
Ludger Stracke, Manufacturing
Director Selve (Finances/Cont-
rolling, Personnel, IT, Material
Management and Logistics)
"Wir sind als Unternehmen
und Aussteller der 1. Stunde
von Beginn an auf der R+T
präsent – und freuen uns
auch 2015 auf dieses span-
nende Messe-Highlight. Hier
kommt die gesamte Branche
aus dem In- und Ausland
zusammen, um sich über
Neuheiten und Trends zu
informieren. Selve stellt sich
gerne diesemWettbewerb
und scheut den internationa-
len Vergleich nicht. Im Gegen-
teil:Wir rücken selbstbewusst
unsere Stärken – wie eigene
Entwicklungsabteilungen und
unser umfassendes Sortiment
'made in Germany' – in den
Vordergrund."
"As a company and exhibi-
tor we have been at the R+T
from the very start – and in
2015 we are also looking for-
ward to this exciting trade
fair highlight. Here the entire
industry from Germany and
abroad assembles to find out
about innovations and trends.
Selve is pleased to face up to
this competition and does not
shy away from international
comparisons. On the contra-
ry: we put our strengths self-
confidently in the foreground
– like our own development
departments and our compre-
hensive product range 'made
in Germany.'"
Selve
Ilya Özyürek,
Managing Director Palmiye
Ilya Özyürek, Managing Director Palmiye
"Aufgrund ihrer internationalen Be-
deutung ist für Palmiye die R+T die
wichtigste Fachmesse überhaupt. Hier
führen wir auf der höchsten Ebene
Handelsgespräche und erzielen be-
sondere Geschäftsabschlüsse. In 2015
werden wir unsere neuesten Produkt­
innovationen für den Lebensbereich
Terrasse vorstellen – intelligente Viersaisonprodukte, die un-
seren Kunden Schutz vor Sonne,Wind und Regen bieten. Der
dreijährige Zyklus der Fachmesse ist uns auch wichtig, weil er
den Innovationszyklen der Branche entspricht. Infolgedessen
können wir wirklich neue Produkte vorstellen. Wir freuen uns
auf die R+T 2015 und erwarten ein hohes Besucheraufkommen
am Palmiye-Stand."
"For Palmiye the R+T is the most important fair of all, because of
its international significance. Here we conduct trade talks at the
highest level and arrive at specific business deals. In 2015 we pre-
sent our latest product innovations for the living area terrace –
Intelligent four season products, that protects our customers from
sun, wind and rain. The three-year cycle of the fair is important to
us too, since it corresponds to the industry's innovation cycles. As
a result, we can present genuinely new products. We were looking
forward to the R+T 2015 and expect high visitor volume at the
Palmiye stand."
Palmiye
Stimmen zur Messe /
Voices of the fair
5
ROMA. Wohnen beginnt vor dem Fenster.
www.roma.de
Rollladen
Raffstoren
Textilscreens
ROMA präsentiert in
Halle 5, Stand A52:
zipSCREEN.2 – die neue
Textilscreen-Generation.
Anzeige R+T Messezeitung V2.indd 1
16.01.2015 10:57:07
Christopher Musculus, Vertrieb Musculus
Christopher Musculus, Musculus
distribution
"Die R+T ist immer wieder ein fest ge-
buchter Termin für unser Unternehmen.
Durch die hervorragende Organisation
dieser Messe ist es immer ein Vergnü-
gen in Stuttgart auszustellen. Hier tref-
fen wir einen Großteil unserer Kunden
und können auch immer wieder neue
Kontakte knüpfen, national und international. Darüber hinaus ist
die R+T auch ein hervorragendes Stimmungsbarometer für die
Branche, und man erhält einen Gesamteindruck über die Lage am
Markt, sowie Neuigkeiten und Innovationen.Wir freuen uns, auch
dieses Jahr wieder Teil dieser Messe sein zu dürfen."
"The R+T is time and again a permanently booked appointment for
our company. Thanks to the outstanding organisation of this trade
fair, it's always a pleasure to exhibit in Stuttgart. Here we meet a
large proportion of our customers and can repeatedly make new
contacts, nationally and internationally. In addition, the R+T is also
an outstanding mood barometer for the industry and one gets an
overall impression of the position on the market as well as of new
features and
innovations.We
look forward to being part of this
trade fair this year too."
Musculus
Besuchen Sie uns auf der R+T!
Halle 4, Stand D01
Halle 5, Stand D01
Rollladen · Tore · Sonnenschutz
Magazin
RTS