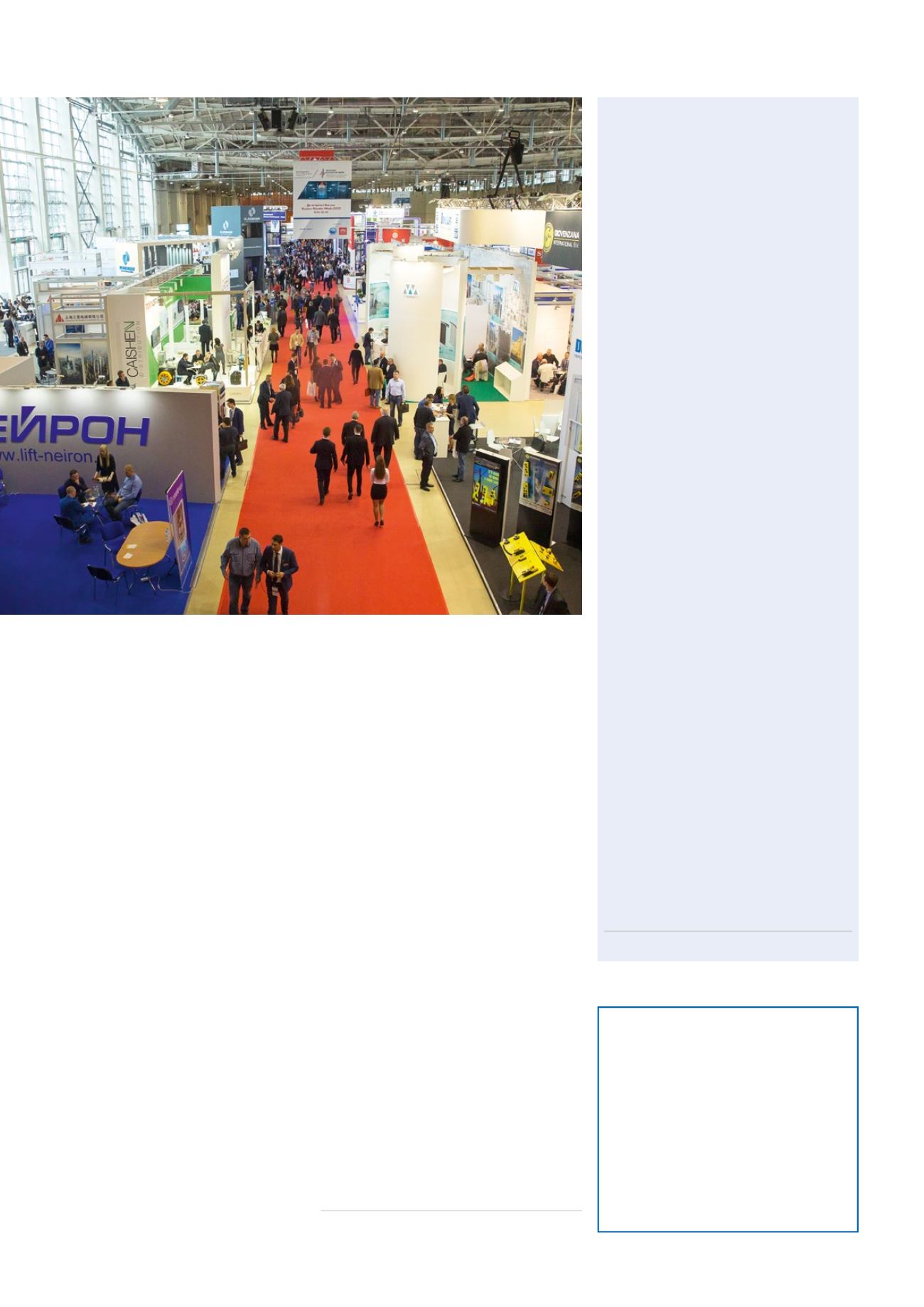 32
LIFT
journal 1/2019
MESSEN UND VERANSTALTUNGEN /
FAIRS AND EVENTS
Die größten ausländischen Unternehmen
aus mehr als 15 Ländern der Welt werden
ihre neuen Produkte vorstellen. Unter
den Teilnehmern sind Branchenführer wie
Kleemann, Fermator, Giovenzana, Dopp-
ler, Orona, Canny, DIAO und AH&MET
Asansor. Zu den führenden russischen
Herstellern gehören das Maschinen-
werk Karatscharowskij, das Aufzugwerk
Schtscherbinka, Evroliftmash, das Aufzug-
werkWitchel aus Tscheljabinsk, En-El und
Transenergo. Teilnehmer aus Korea und
China werden sich an Gemeinschaftsstän-
den ihrer Länder präsentieren.
Aktuelles Business-Programm
Alle Besucher haben die Möglichkeit, sich
einen umfassenden Überblick über den
Aufzugmarkt zu verschaffen, etwas über
die potenzielle Entwicklung der Branche
zu erfahren, sich über die neuesten Trends
zu informieren, Erfahrungen auszutau-
schen, den Kreis potenzieller Partner zu
erweitern, die neuesten Entwicklungen
aus Russland und anderen Ländern im
(VDNH), which is one of the oldest exhibition
areas in the world.
In 2017, 179 companies from 18 countries of the
world presented their high-technology innova-
tions and more than 5500 visitors attended the
event. This year during three days of Russian
Elevator Week exhibition will be presented
large-scale exposition with a wide range of lift-
ing and transporting equipment: lifts of all types,
escalators, moving sidewalks, lifts for persons
with disabilities, spare parts and components,
automation and dispatching systems and also
everything for producing, assembling and ser-
vice of hoisting devices.
The largest foreign companies from more than
15 countries of the world will demonstrate their
new products. Among participants such indus-
try leaders as Kleemann, Fermator, Giovenzana,
Doppler, Orona, Canny, DIAO, AH&MET Asansor.
Among leading Russian manufacturers are
Karacharovskiy mechanical plant, Scherbinka
elevator plant, Evroliftmash, Chelyabinsky eleva-
tor plantWitchel, En-El,Transenergo. Participants
from Korea and China will present their national
collective expositions.
Topical business programme
All visitors will have great opportunity to get full
overview of the elevator market, learn about the
potential development of the industry, get infor-
mation about the latest trends, share experiences,
expand the circle of potential partners, evaluate
the latest Russian and foreign developments in
the field of elevator engineering, test demo sam-
ples of elevators and lifting equipment.
In the framework of REW topical business pro-
grammewill be organized. Among key topics are:
- Safety of elevators
- Creating conditions for updating of lift fund in
country
- Forming of a barrier-free environment for
people with disabilities
- Equipment certification in the Russian market
- State programs for the industry support
- Dispatching.
Russian Elevator Week exhibition is supported
by state authorities and industry associations
and organizations.
www.lift.vdnh.ru/en
Bereich der Aufzugtechnik zu bewerten
sowie Vorführmodelle von Aufzügen und
Hebezeugen zu testen.
Im Rahmen der REW wird ein aktuelles
Business-Programm angeboten. Zu den
wichtigsten Themen gehören:
-
Sicherheit von Aufzügen,
-
Schaffung von Bedingungen für
die Modernisierung des gesamten
Aufzugbestandes in Russland,
-
Schaffung einer barrierefreien
Umgebung für Menschen mit
Behinderungen,
-
Gerätezertifizierung auf dem
russischen Markt,
-
staatliche Programme zur
Unterstützung der Branche,
-
Disposition.
Die Russian ElevatorWeek wird von staat-
lichen Behörden sowie Verbänden und
Unternehmen der Branche unterstützt.
www.lift.vdnh.ru/en
Im Jahr 2017 präsentierten 179 Unternehmen aus
18 Ländern der Welt ihre High-Tech-Innovationen
auf der Russian Elevator Week.
In 2017, 179 companies from 18 countries of the
world presented their high-technology innovations
at the Russian Elevator Week.
Wichtig!
Der Termin der"Russian Elevator Week"
ist verschoben worden. Geplant war die
Messe vom 18. bis 20. Juni, neuer Termin
ist der 26. bis 28. Juni 2019.
Important!
The date of the"Russian Elevator Week"
has been postponed. The fair was
planned from 18 to 20 June, the new
date is 26 to 28 June 2019.